How many Diabetic Test Strips are required per month?
At the heart of diabetes management is regular monitoring of your sugar levels. Besides checking your HbA1c levels, sugar monitoring with a home use glucometer is a must. You may use a simple glucometer or the newer and more technologically advanced mobile based glucometer. These smartphone glucometers attach via the audio port of your phone and allow you to save your readings, view trends and analyses, set reminders, share readings in addition to other such useful features for diabetics.
For checking your blood sugar at home your diabetic kit must include the following:
Blood glucose test strip as recommended by your glucometer manufacturer
Lancing device
Lancets
Diabetes test strips are the only recurring cost a person with diabetes needs to incur to continue testing.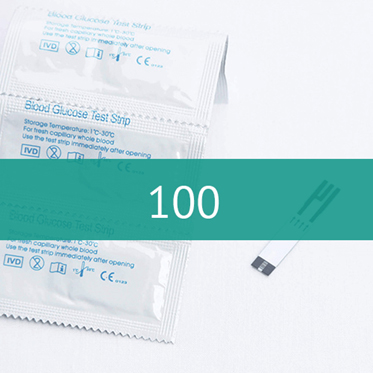 Here are some GENERAL TIPS for using test strips:
Never re-use test strips
Do not leave strips in direct sunlight or humidity
Do not bend strips
Always wash hands before using strips to ensure blood glucose levels are not affected by contamination
Always dispose used test strips carefully in a sealed pack
FREQUENCY OF TESTING AND NUMBER OF STRIPS REQUIRED PER MONTH
You must always first ask your doctor or medical practioner for how often you should test. Here are some general guidelines and the average number of strips you will require per month.
Gestational Diabetes, which occurs during pregnancy, needs you to be extremely vigilant to ensure health and safety of baby and mom. You may be asked to check your blood glucose as often as 3-4 times a day.
TOTAL NUMBER OF GLUCOMETER STRIPS needed per month = 120
2. Insulin dependant or Type 1 diabetes also requires a diabetic to check sugar levels 3-4 times a day to determine amount of insulin he/she needs.
TOTAL NUMBER OF GLUCOMETER STRIPS needed per month = 120
3. Newly diagnosed diabetics will usually check more often than long time standing diabetics in order to understand how their blood sugar affects their health and how diet and exercise affect            their sugar levels. Here you are likely to be checking at least 2-3 times a week.
TOTAL NUMBER OF GLUCOMETER TEST STRIPS needed per month = 12
4. Drug or medication induced diabetes is called secondary diabetes that may occur due to taking certain medication or may be a consequence of having other health conditions. In such cases,            a person needs to take extra care and monitor sugar levels as often as 3-4 times a day. Here, diabetes may go away on stopping medication or may be permanent depending on what other                health condition the patient has.
TOTAL NUMBER OF GLUCOMETER TEST STRIPS needed per month = 120
5. Long standing Type 2 diabetics usually need to check blood sugar no more than 2-3 times a week. This may vary if your diabetes is uncontrolled, if you are travelling or have an illness or                   any other medical condition.
TOTAL NUMBER OF GLUCOMETER STRIPS needed per month = 12
One can calculate the cost you will incur based on number of test strips you are likely to use per month.